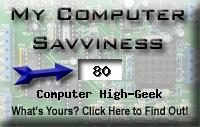 shawn posted a link to this self-test about your level of geek. he only scored a 17 but i know he's more of a geek than i am. he has a podcast of his own. it has to be the questions that require being older than 25 to get that pushed me so far ahead on the score.

i really did play pong on a table-game - not the home atari, but the little table you sit across from your opponent at. and i remember commodore 64 coming out and being tremendously advanced over the trash-80 model 1 i was using.

david russell, david song, wes ratcliff, josh foster - i'm callin' you out. i wanna know what you score on the test. if you can't top 80 then the test cleary has an age bias.